Image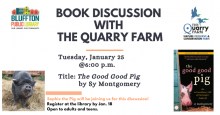 Sophie the Pig will be joining us for this discussion!
Anne Coburn-Griffis of The Quarry Farm joins Bluffton Public Library to lead this fun animal book discussion.
Open to adults and teens.
Register at the library by January 18 and to check out your copy of the book!
*This program is planned to be held in person at the library.