Image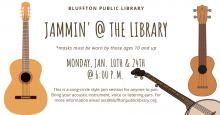 Jammin' @ the Library returns on Monday, January 10 and Monday, January 24!
Properly worn masks are required for everyone aged 10 and up.
This is a song-circle style jam session for anyone to join, and will be located on the main floor of the library. Bring your acoustic instrument, voice or listening ears. For more information email asc@blufftonpubliclibrary.org.