Beanstack is a website that helps you and your family discover books, keep track of your reading, and reach reading goals. Thousands of libraries and schools utilize Beanstack for their reading challenges, and we are excited to offer this virtual option to our patrons.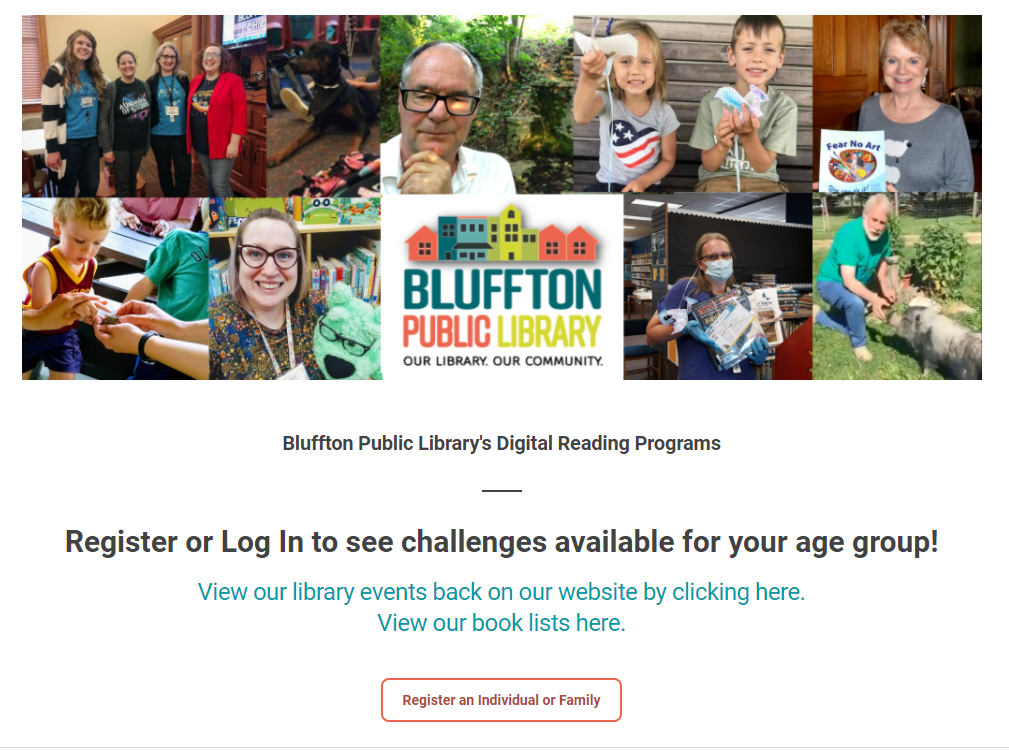 To register for the first time: 
Click Register an Individual or Family button under the program description.
Select I am Registering Myself to create an account for yourself or your family (After you register yourself, this link will take you through prompts to sign up other family members, too). 
Create a profile by filling out the form. Adults should choose 19+ as their age group and select Not Applicable under What school will you attend this fall?
If you have a family of registrants, your Username and Password will be used for all of them. 
Click Next when you're done creating your profile.
Next, register yourself for your age group's chosen reading challenge.
(See current challenges below.)
Click Next and if you have family to register, follow the prompts to add another adult(s) and/or a child(ren) reader(s). If you are adding family members, continue creating profiles for everyone in your family by filling out a form for each and following the prompts of Yes or No to add each family member. As you create profiles, you will need to enter each family member into the Reading Challenge for their age group by clicking on the challenge's title.
Congrats! Once you're done you - and your family members (if applicable) - receive your first badge for creating a Reader Profile!
Click Continue to proceed to your account!
Scroll through each Reader's Overview pages to learn more about each Reading Challenge!
To log your reading, click on the Log Reading and Activities button in the upper left corner.
Choose the profile for which you want to log reading, and then click Minutes (or Books, if applicable.) Then log your reading! You're on your way to badges/prizes!
If you complete an activity, click on Activity Badges to checkmark each step and answer any questions to explain how you completed the activity. Every age group has different challenges/activities.
Have fun earning Reading and Activity badges and (for selected Challenges) Tickets! Tickets can be used in Drawings for each age group's grand prizes.
In the Ticket Drawings tab of your portal, click Add Tickets under the grand prize drawing of your choice.
If you accrue more than 1 ticket, you can change the number of tickets you enter into the drawing by clicking the plus (+) or minus (-) signs you would like to enter.
There is also a Beanstack app available free in your app store on your mobile device.

Paper Log Options
Current Beanstack Challenges:
1000 Books Before Kindergarten (this is an ongoing challenge - a virtual alternative to the paper version)
Summer Program 2022, "Oceans of Possibilities"
Have questions? Email pr@blufftonpubliclibrary.org.