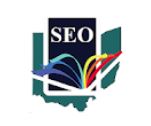 The SEO Libraries App is an intuitive mobile app available to Bluffton Public Library patrons and all patrons of the SEO library consortium. Available for all iOS and Android devices, this app brings several key library functions right to patrons' fingertips. This app replaces the BookMyne app, which phased out in July 2019. 
The SEO Libraries App allows patrons to:
Browse the library's collection
View details about each library material
Place holds for later pickup
Renew current checkouts
View their account status, including any fees
Utilize reputable online research databases
Check out and download digital content, including eBooks, eAudiobooks, and digital magazines, with the touch of a button (it is synched to the Ohio Digital Library, which you can access using the Libby app)
Find the location and operating hours of the nearest library
Access a digital version of their library card that can be used when checking out at the library's front desk
Search the library collection by scanning the ISBN barcode of an item they'd rather borrow than buy
And for families, patrons can link together digital library cards to easily manage multiple accounts
If you are interested in downloading this mobile library app, search for "SEO Libraries App" in your app store today. If you need assistance downloading the app and accessing its many features, email psc@blufftonpubliclibrary.org or call us at 419-358-5016 to set up a time to meet with a member of staff.